"Are you sure you want me to let him out?" asks Logan Bennett, Banff National Park's current dog handler, in his plucky New Zealand accent.
Everyone nods. Seconds later, Leroy, a German shepherd and Bennett's partner, bolts from his kennel, leaps onto the deck and lands a giant kiss on the cheek of Mike "Hendo" Henderson, the dog handler for Banff from 2001 to 2019. An imposing man in stature, Henderson blushes and reciprocates the affection with some scratches behind the pooch's ears.
The job of dog handler for Parks Canada in the Mountain National Parks is a unique assignment — partly because there is only one dog handler for the Mountain National Parks (in the past, however, there were generally four at the same time), but mostly because the position requires a distinctive set of skills for both the dog and the handler. The pair also work together as a team 24/7.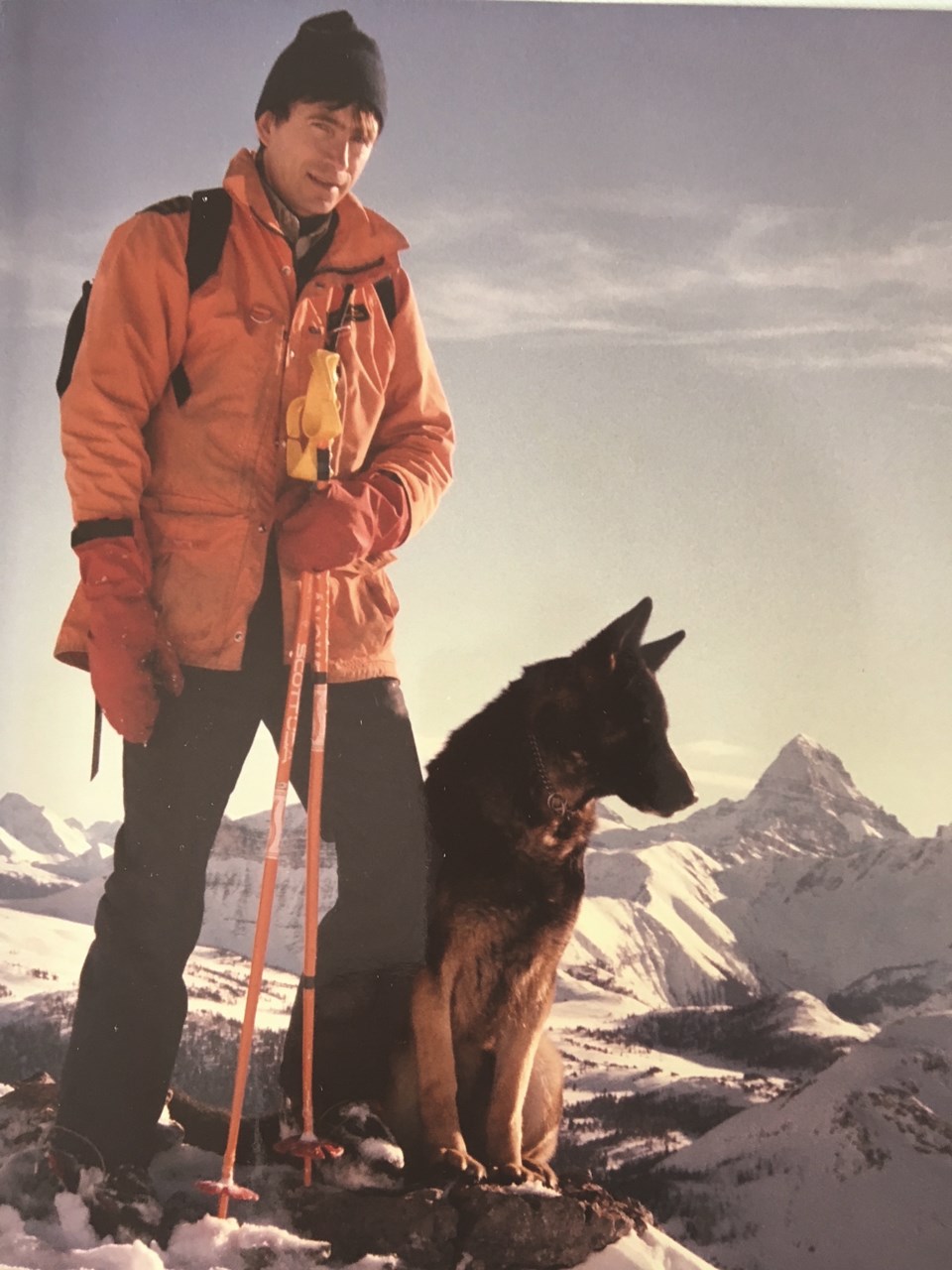 "My dad worked for Parks as a biologist," says Scott "Scotty" Ward, a legendary park warden who was the Banff dog handler from 1983 to 2000, working on over a thousand dog calls. "I remember, when I saw these wardens, I figured that that's the coolest job in the world. But when I saw in the paper a picture of Alfie Burstrom [Banff's first avalanche dog handler] with his dog, Ginger, I thought, 'Well, that's just upped the whole warden job,' because dog handler — that's the coolest job ever."
Although equipment and the world have changed since Ward worked for Parks, the dog handler responsibilities are still rooted in avalanche searches. "Avalanche searching is one of the main reasons Parks Canada has a dog program in the first place," says Henderson. "Avalanche calls are time-sensitive, there is lots of pressure to respond quickly, and they typically involve harsh travel, like brutal flying conditions or touring around on debris or even in the dark. These calls also involve elevated risk."
Henderson cites the Strathcona-Tweedsmuir School avalanche in 2003, where he and his dog, Atilla, searched, as one of the many calls where his team's safety was a challenge to manage. Below Mt. Cheops, where the avalanche occurred, the terrain was exposed to residual overhead hazards. Many accidents require complex logistical tactics such as timed slings (from the helicopter) into the search area, something that only adds to the intensity of a search. Most of these calls concern burials of people not wearing transceivers.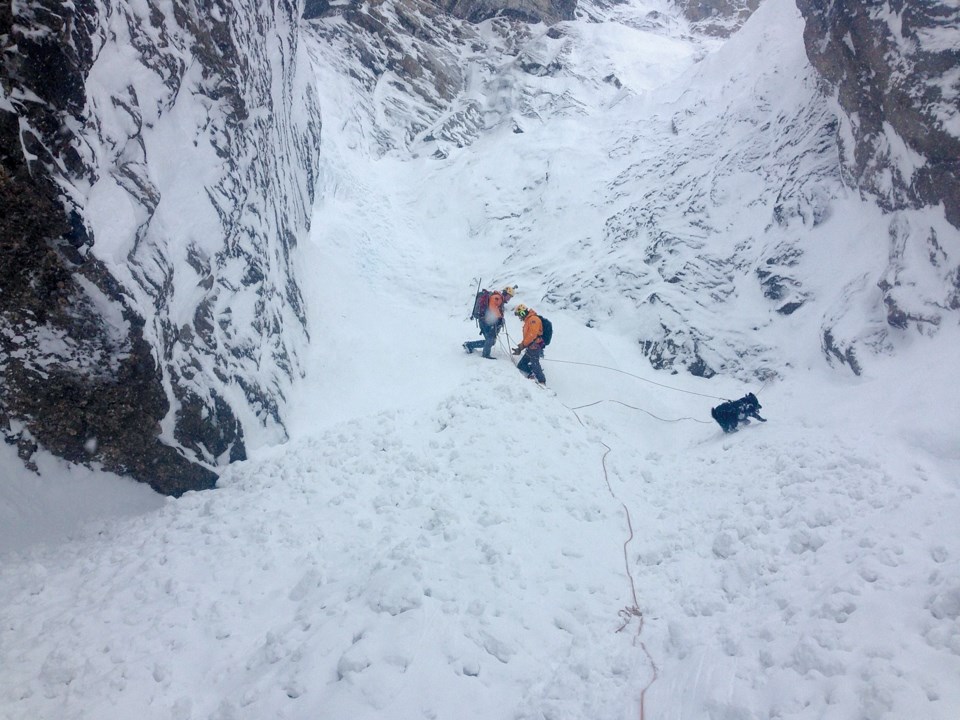 "In these situations, the Visitor Safety team relies on the dog teams to find a solution and ultimately deal with the tragedy in the outcomes," says Henderson.
"We don't want to put too many people on a probe. By inserting the dog and handler team, the exposure reduction is significantly altered to one person instead of 20 to that secondary hazard," says Ward. "I remember searching an avalanche at Lake Louise. It turned out there was nobody in it, but I was called because a ski was found in the debris. I was searching with my dog, Data, and Visitor Safety member Marc Ledwidge when we heard a yell and a whistle going off to the side. Marc and I look up, and there's a big one [avalanche] coming right for us — heavy, wet spring snow — but it was going fast. We all ran like snot for the side of the track, and we hit the isothermal snow off of the debris and just disappeared up to our chest. This avalanche went right by us and hit the trees at the bottom. This would have definitely killed us all on impact."
All Parks Canada dogs have to be not only CARDA [Canadian Avalanche Rescue Dog Association]-validated but also police-validated. On the law enforcement side of the job, both dog and handler have been trained at the Innisfail police dog training centre in Southern Alberta.
This process is arduous and taxing on the families of the handlers. Very often, handlers "wash" a dog because the animal doesn't have every element needed for the job. The drop-out pups find other positions or a family with a comfy couch, while the handler has to start over with a new dog. When a dog and handler get validated, however, they become a true team.
Cazz, Henderson's third dog, who was on duty for eight years, came close to scrubbing out, but they both worked hard to "short-circuit" the unwanted behaviour. The large and fluffy shepherd, with a presence as impressive as Henderson's, responded to over 450 calls and was beloved by the community.
"Cazz definitely had two sides of the coin," says Henderson. "He was such an amicable dog and super-nice to be around. A really hard-biting dog and a good tracker. Cazz had an awesome run. He did well in all his profiles and came up big on good calls."
The Cazz and "Hendo" team will forever be remembered as one of the most successful and dynamic teams, something every handler strives for.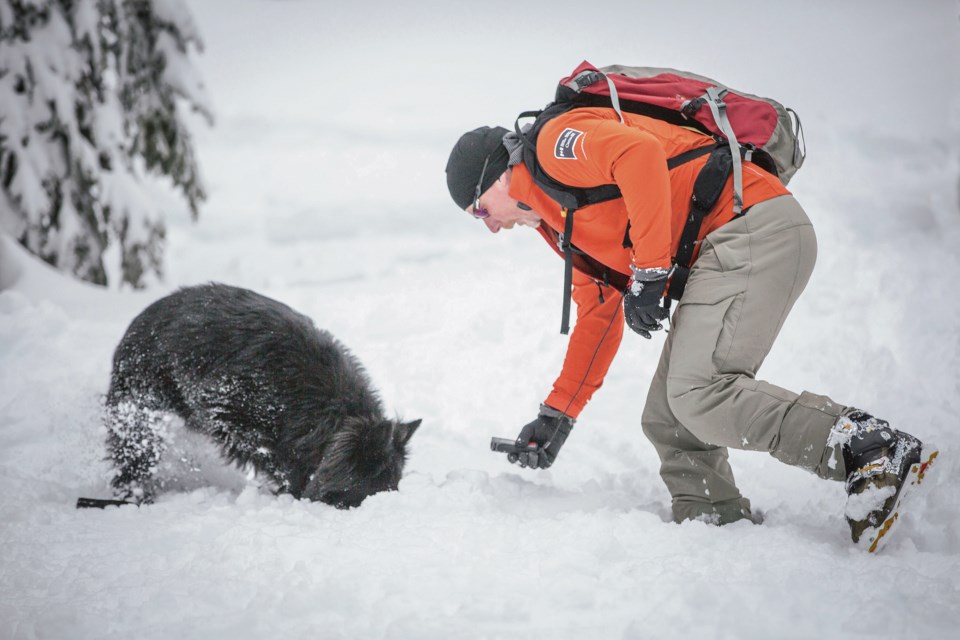 "I don't think there's another relationship like it, because you are relying on each other to stay safe," notes Bennett. "I rely on him to keep our team safe, and when the avalanche conditions are high, I'm trying to keep him safe, when he's trying to find a subject. Like any relationship, it's built over time and it takes a lot of work. For Leroy, being the biggest turkey in the entire universe, he has come such a long way, but we are growing and learning together, every day. You just become a team — we're nothing without our dogs."
Unlike a typical police dog, the Parks dog needs to have a balanced temperament, since most of his or her work involves the general public, often in finding people who are lost or just unaware. "Leroy is a lover, and because of this, we can track people for lesser offences," Bennett says. "We are 100% certain that Leroy will NOT automatically bite someone."
One of the main things that Bennett and Leroy do is pull people out of closures due to wildlife issues. "They're really such beautiful animals out there to take photos of, but people's interactions at times can be a bit close. This can either cause the animals to be habituated by people's presence or push them off their feeding grounds," comments Bennett. "We are really just trying to educate people and make a difference. I think it's really noble."
Besides learning to work with Leroy, Bennett has learned a lot about other areas of parks management since starting his job in 2019. He once noticed a bike in a weird spot in Banff National Park. Worried about poaching, he tracked the scent and found Darin Ladouceur, a medicine picker who had a permit to do gather medicines.
"I got to sit down with him, and he talked to me about the sweetgrass and why he was picking it," says Bennett. "I'm Māori — Indigenous to New Zealand — and I was able to talk to him a bit about our culture and his, and I really enjoyed it. We also talked about him being Metis and his journey, which I related to a lot. I didn't grow up with my Māori family, so there is a bit of separation from my roots. When he passed away, it was a big loss. I just want to learn more now."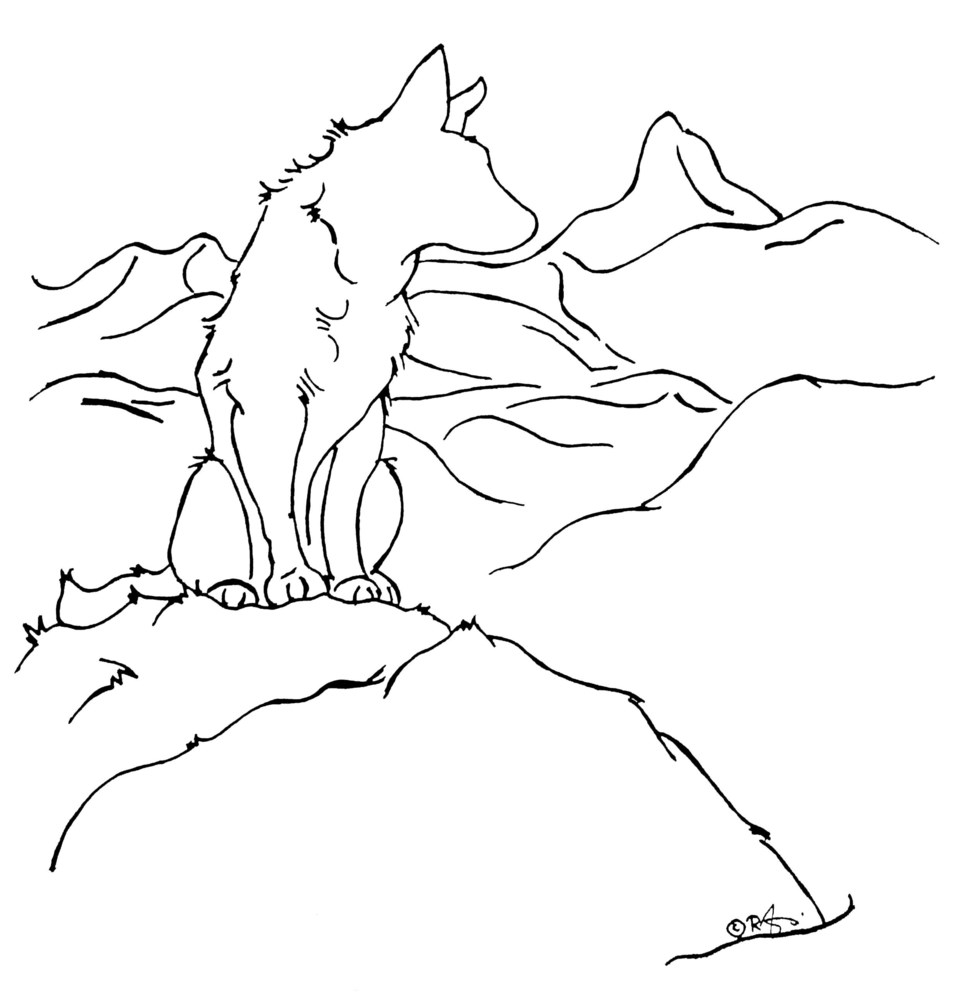 Another unexpected aspect that Bennett has discovered is homelessness and mental health — a developing concern for the parks. "These issues are apparent in Banff," he says. "It's something I never knew, along with the suicides we see in national parks. It's a big issue. We are trying to look after people as best as we can. Sure, some people have done bad things, but they are still people and they deserve as much respect as we can give them. Same for those who unfortunately committed suicide."
In addition to his avalanche and police profiles, Leroy has a human remains profile. He is able to find remains — from fresh to skeletal, and anything in between. Since he has started, Leroy has been able to find three older remains, which were returned to the families, and another set of newer remains.
"When we lose someone on the landscape and we can't find them, we'll employ Leroy to try and locate them," Bennett explains. "Someone was gone for eight days, and Leroy found their body in 45 minutes. Sadly, they were deceased, but Leroy is a wicked resource, and it really gets us in the right position really fast."
There are not many human remains dogs who have been validated by the RCMP in Canada, yet. "It's a new profile," says Bennett. "We've had success so far. It's morbid for sure, but it's rewarding. We're bringing closure to people, by returning their loved ones to them."