In recent years, ski films have found protagonists in the anecdotal backstories of the behind the scenes. For better or worse, these narratives build a more endearing relationship between the viewers and the skiers who are being filmed.
It can make what would be "ski porn" into an arching film with compelling and relatable emotions. However, sometimes the story behind the "behind the scenes" doesn't make it to film and is left to be told elsewhere.
La Liste: Everything or Nothing is no exception.
Within the first 30 minutes of the film, one of the camera operators has a horrible life-altering crash skiing in Peru. The incident sent the film's lead, world renowned freeskier, Jérémie Heitz, into a real and existential crisis.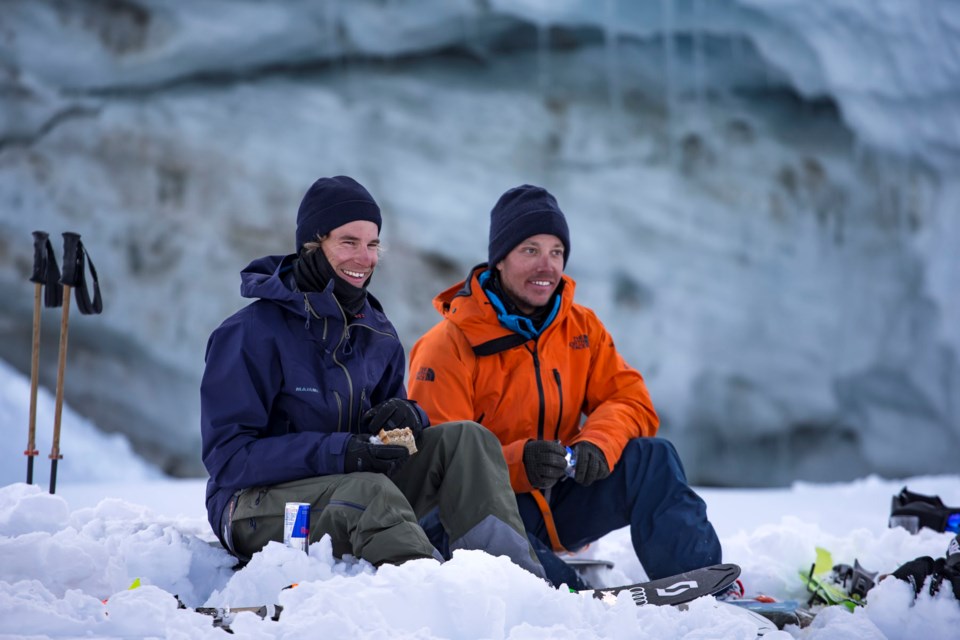 Is what Heitz doing – essentially ski racing down huge 6,000-metre peaks – worth it?
Everything or Nothing is a sequel to the mind boggling 2015 film, La Liste, where Heitz does nothing short of completely mental steep skiing on 15 peaks in the alps. Everything or Nothing, takes Heitz's skiing further with bigger more remote locations, this time alongside fellow freeskier Sam Anthamatten.
Everything or Nothing was shot by the local Bow Valley based production company Sherpas Cinema and which have, over the years, employed many mountain guides and camera operators, and often the crew members hold both titles. One camera operator, Justen Bruns, who lioves in Canmore, is also working to become a mountain guide, was on location in Pakistan for the film's second act.
"From a filmmaking perspective – these places are visually stunning – everything's huge," Bruns recalls the Hushe Valley in the Karakoram Range. "You look at a line and you think, 'oh, it's going to be cool'. You get in position and set up, then everything's so much further away than it looks like. You start to see these ants (skiers) on the walls. They're absolutely ridiculous, our base camp was 5,000 meters and we started out from there and we skied some lines that were close to a thousand meters long and there's still a thousand-metre mountain above you."
Spoiler alert – the team didn't get to ski the peak (which we won't name) they had hoped to.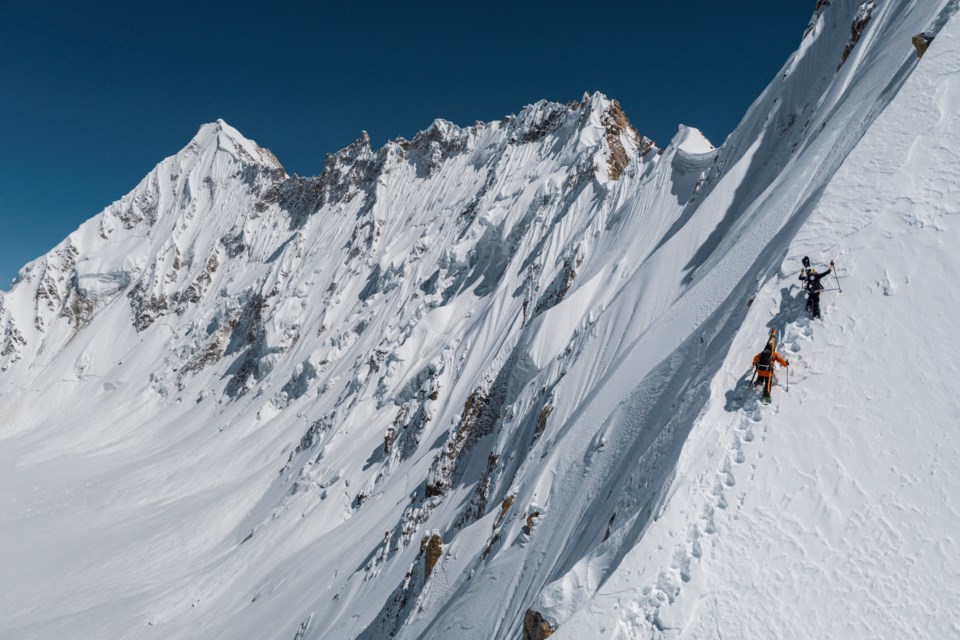 "The snowpack was just a bit weird when we got there. Everything about 5,800 metres had ground lines on it," says Bruns. "It was a pretty conservative note from the start. We got up to some moderate lines around camp in the first week of base camp, which is mostly what you see in the film. The second week we tried a few different, bigger lines, but just kept getting skunked. There was a crazy heat cycle there. We'd get minus 20 in the night and two plus 15 in the day. It was a successful trip in a way because we got to ski some cool north facing stuff, but it wasn't exactly what they had envisioned."
The way back home wasn't what Bruns had envisioned either. While the team was isolated, shooting in the remote Hushe Valley, the rest of the world was going through the fourth wave of COVID-19.
"We drove to Islamabad, which was a 25-hour journey with a blown engine in the middle of it," said Bruns, joking they could have made a whole film just about that trip.
"Once there, we all had to get the COVID test and that all went well, all got to the airport and because of the travel bans and the fourth wave."
Bruns was the only person on the crew who was Canadian. His flight was direct, which meant he couldn't get home.
"Everybody else was going to Switzerland and one to America, but because of the travel ban from Canada, I was having problems getting through the airport and being able to check-in," says Bruns. "Eventually, I was denied after trying to book a few different tickets to a few different locations. I was stuck in Pakistan."
After a few days stay in Pakistan, a few back and forth Instagram messages with the High Commissioner of Canada to Pakistan, Bruns was able to get back home.
"It was a good experience. We had a great crew – thankfully. Our expedition support staff were key and showed me a good time around Pakistan."
Despite all the setbacks and side stories worthy of their film, La Liste: Everything or Nothing is jam packed with all the aspirational and uber impression ski segments of a classic. Although, the journey of how this film was made, is the stuff that makes blockbusters.