Chef Blake Flann, founder and co-owner of the restaurant 4296, the speakeasy Bar Déjà Vu and the audacious ice cream parlour, Sweet Revenge, first started cooking when he was a kid.
He was living with his single mother and two younger brothers.
"I was the oldest of three boys and she was busy working, so I often cooked dinner for my younger brothers," says Flann. "It was simple stuff, like those Campbell soup recipe books. I would follow the recipe to a T. But then I started experimenting more."
Flann has been experimenting with food ever since.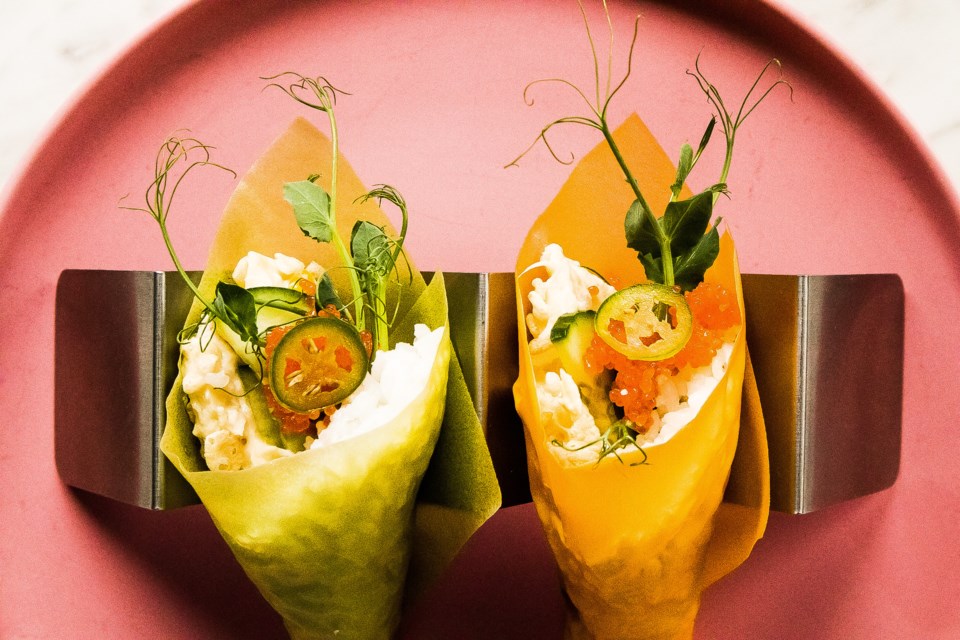 His first foray into the restaurant world started when he began working at the Stewart Creek golf course as a dishwasher at 12. From there, he went to prep, then line cook and has worked "every position possible."
Then at age 22, he graduated from culinary school.
"I'm classically trained in French cuisine," says Flann, who would always get in trouble for tweaking the classic French recipes he learned. "We'd have to make it. But I would always add a little twist to it, a little change, like add more flavour or more colour. It drove my French instructors mad."
However these tweaks and twists are what makes Flann an award winning chef.
"I have that backbone of French training from cooking school, but I'm always pulling inspiration from absolutely anything in my life," says Flann. "I'm all about nostalgia. I'm all about fashion. I love art. I love interior design. I love music. I love all these things. And I literally put these things on my menu. Whether it is something that I had when I was traveling or something that I had when I was a kid. Or just one or two ingredients from a memory."
That's how Flann creates, but also how he lives his life. At his core, Flann is bon vivant with a dash of kitsch, a sprinkle of b-boy, a pinch of minimalism and a whole lot of fun.
"I'm huge into pop culture. From pop music to popular clothes, and food trends, I am all about it. I always have," says Flann. "Art, any form of expression that is fun. I don't like things to be too serious. And I think pop culture doesn't have to be too serious. I've done serious cooking and it's not really for me. I realized this and I'm more happy cooking experimentally."
Flann was the founder and namesake of the Blake in Canmore, but has no connection to it anymore. The dishes he designed there were just a starting off point and not a true reflection of himself.
Between parting ways from the Blake and opening 4296, Flann and his partner (business and life) Kale McIvor took time to travel the world and really hone in what Flann's next act would look, feel and taste like.
"This time around, when I opened this business, I really thought about what was going to set me apart," says Flann. "What is the Bow Valley lacking? I believe that we are lacking very good options for vegan and vegetarian people. It's so important to me that everyone that goes out enjoys their time. That was a big inspiration. If you are in a group of friends and go out and you're a vegan – you might literally have one or two options. Or you have to remove the cheese and that's no fun."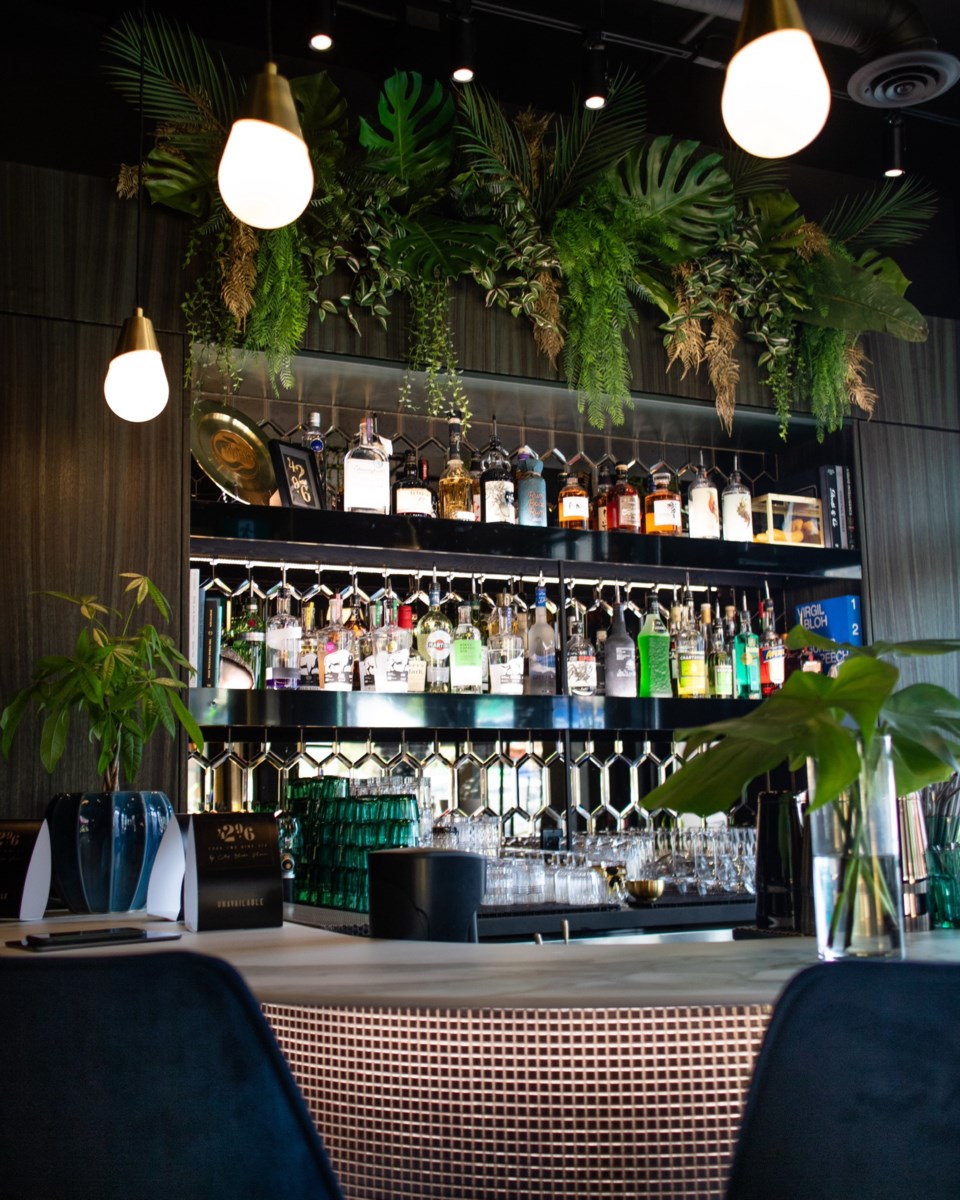 Although 4296 – named for the elevation of Canmore – offers meat dishes, the quality of the meat is the highest standards because Flann and McIvor motives for offering more plant based options was not solely for "fun."
"People are getting more and more plant-based," says Flann. "I'm not vegan by any means, but we definitely eat a lot more plant based food than ever before. It's better for the planet and the environment. I feel better when I eat plant based. I also feel better for the animals and it makes me feel really good to offer those options."
These options include Vietnamese "Tartare" a jackfruit, shiitake dish that spares no flavour, mītobōru style "Impossible Beef" that features bergamot tare, toasted fennel and coriander togarashi. There is also the vegan and gluten free "caviar" service that is served at 4296 and Bar Dèjá Vu, the speakeasy in the back of 4296.
Bar Dèjá Vu is an amalgamation of Flann's imagination. The windowless bar is lit by black lights and serves a plethora of creative cocktails and mocktails that feature such unique ingredients like shōchū and lime foam. These eclectic and seductive creations are the successful experiments of head bartender Charles Gilhen, who is a mad scientist/mixologist with fondness for decadence.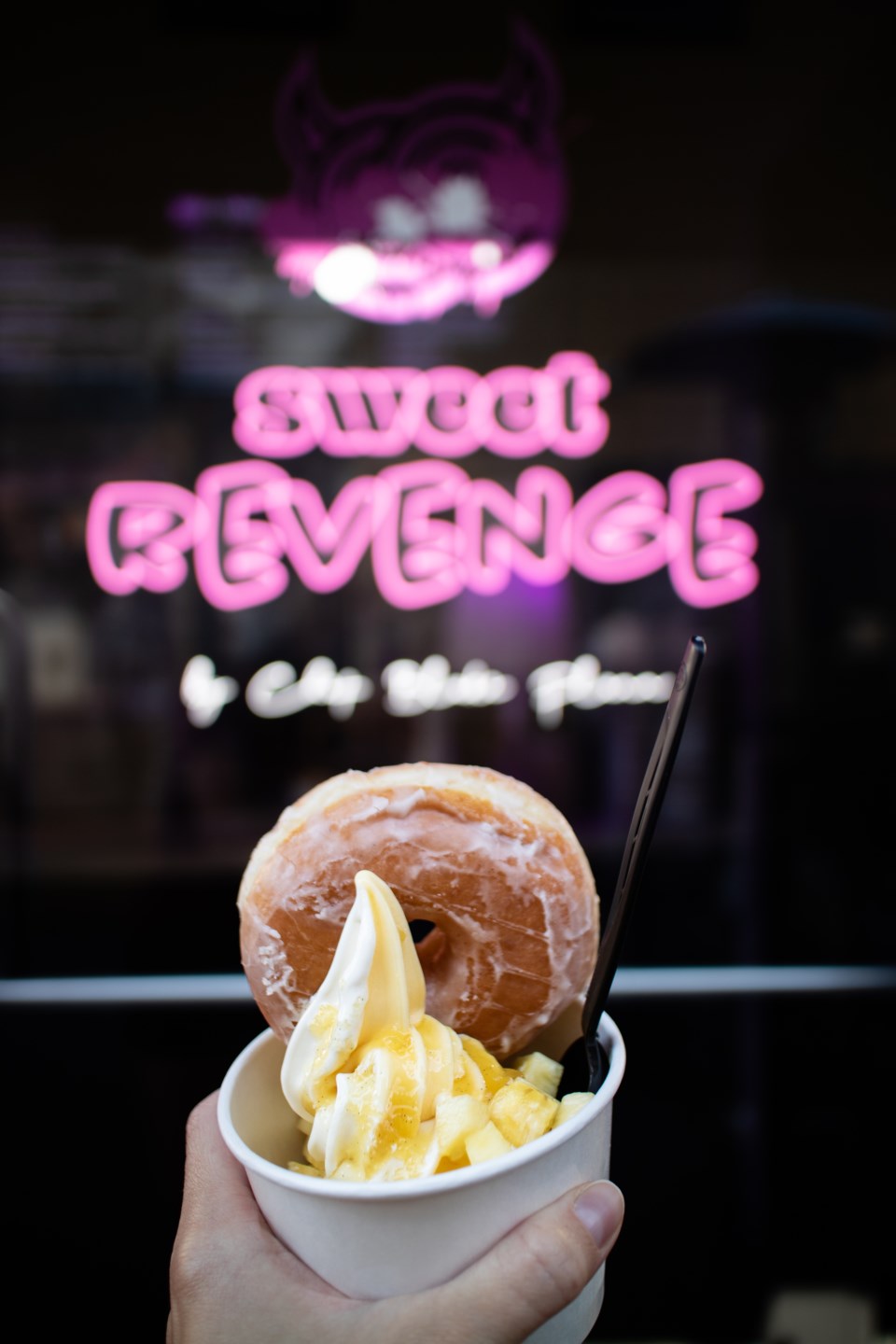 All the while, tunes from Lady Gaga to the latest chill out mixes to obscure rhythm and blues gems of the early 2000s, play in the background, to produce a timeless vibe.
Just outside is Sweet Revenge, the ice cream shop and latest business in Flann's arsenal. Sweet Revenge dishes out soft serve with bold toppings like honey oil, truffle salt, cupcakes, gold flakes, blow pops, donuts and more. These combinations might not make sense, but just give these "sinful sundaes" a chance, and they are just as brilliant as Flann's other creations.
"Obviously I've had lots of failures and I feel like chefs and business owners don't grow without them and remember them," says Flann. "I think that's why I'm at a point in my career where I can feature a lot of different dishes and 99.9 per cent of the time they're received very well, and actually end up going on the menu."