As the weather gets colder and your green lawn is covered in snow, turn your attention to finding other ways to boost your curb appeal. Everything from front door wreaths to lighting throughout the yard is essential for dressing the front of your home to impress.
Here are five tips for easy updates that will improve your curb appeal and welcome winter in style.
Make Your Front Door Pop
Boosting your home's curb appeal during the winter months starts with the front door. If yours requires a new coat of paint, get that done in the fall. Consider something bold that will transition well throughout the year and complement your home's other exterior colours. Even if you don't repaint, make sure that your door is clean and has hardware that stands out. These small details really make a difference.
Adding a large wreath to the front door is the next step, and the most important part is to go big! A small wreath can't be seen from the street and will get lost against your home's exterior. Your wreath style should match the other decorations you have planned, so think of a coherent theme before purchasing. If you want something versatile, an arrangement of simple grasses, branches, and berries is a wonderful neutral option; there are several other DIY styles here, too!
Use Porch and Yard Lighting
Many homeowners incorporate lighting on the porch, and this is an excellent idea. Anything from attached wall sconces to hanging lanterns can add a warm glow and attract attention to the front door and surrounding decorations. Don't be afraid to get creative with this component and try something whimsical like candles nestled in empty pots.
Here are more creative ideas to get you started. But don't stop at the porch. Using lighting throughout your yard can really boost your home's curb appeal, especially in the winter months when darkness comes early in the evening. Spotlights trained on bushes and trees help add depth to your yard, while sprawling starry sky lights projected on the garage can add a bit of fun and intrigue.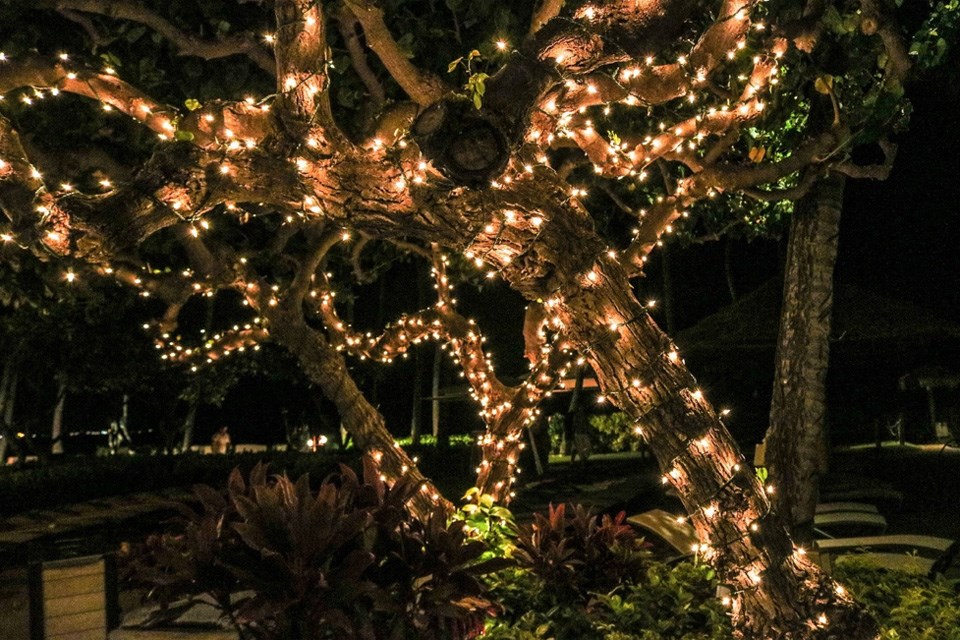 Layer Colours and Textures
Curb appeal is all about creating a welcoming and visually stimulating environment right outside your front door, and one of the best ways to do this is by mixing colours and textures. A monotone look isn't all that interesting!
Choose your colour scheme based on the season and your home's exterior colours, then experiment with complementary shades to highlight. Heading to the paint store and holding paint chips together is a great way to get a feel for what works. Once you have several colours to use, think about textures and prints. If your wreath on the door incorporates a lot of natural textures, choose solid colours for yard or porch seasonal/Christmas décor.
Add Height Near the Door
One of the keys to decorating your front porch is to add height around the door. If everything is sitting on the ground, neighbors won't be able to see the display from across the street. Tall potted bushes and mini trees are a great option for this, and you can find many cold-hardy varieties or faux options. If these aren't in your budget, use wooden crates or inexpensive pots turned upside down for stacking smaller decorations.
Adding height isn't only about plants; many seasonal decorations can fill the vertical space, including tall scarecrows, stacked bales of hay, and lanterns or flags on posts.
Reinvigorate Your House Number and Mailbox
If you live in a home where you can customize your house number sign and/or mailbox, this is a great way to add some personality to your front yard. Think about using a bright colour as a background to make the house numbers pop in either white or black. You can also put the numbers on a post out front rather than having them mounted directly to your home or wall. Add a hook for hanging plants (choose seasonal items or faux greenery!) to make this spot stand out. Similarly, think about painting your mailbox or adding seasonal décor around the base.
By adding a little bit of light, colour, and texture to the front of your home, you'll easily end up with the most eye-catching house on the block!

This story was made possible by our
Community Partners Program
. Thank you
NWR Painting Inc.
for helping to expand local news coverage in the Bow Valley.
Learn more.