Clara Hughes needs no introduction. As the only person (in the world) ever to have won multiple medals in both the Winter and Summer Games, she is beloved by many people internationally. However, this fame has not affected her down to earth vibe and thoughtful values. It is not uncommon for Hughes to say hi first to people she has met rather than the other way around. This endearing quality is something many Canmore residents experienced while Hughes lived in town.
The former Camonorite still visits the Bow Valley and, lucky for us, has shared her favourite places to visit and things to do. So without further ado, we bring you Clara Hughes' Canmore Top 10!
I'm a newbie at this kind of thing and even as a former Olympic athlete, it can be intimidating to try something new. Emily and the crew make everyone feel at home in this grounding space for getting your yoga on or sweating it out in an epic barre class. Plus the mountain views are 👌🏼
Canmore spring
I can't tell you where this is, and can't say you can drink the water (because of public health codes) but what a magical place this is to pay gratitude to the essence of life. Earth juice flows year round at this sacred spot. I may or may not exclusively drink water from here.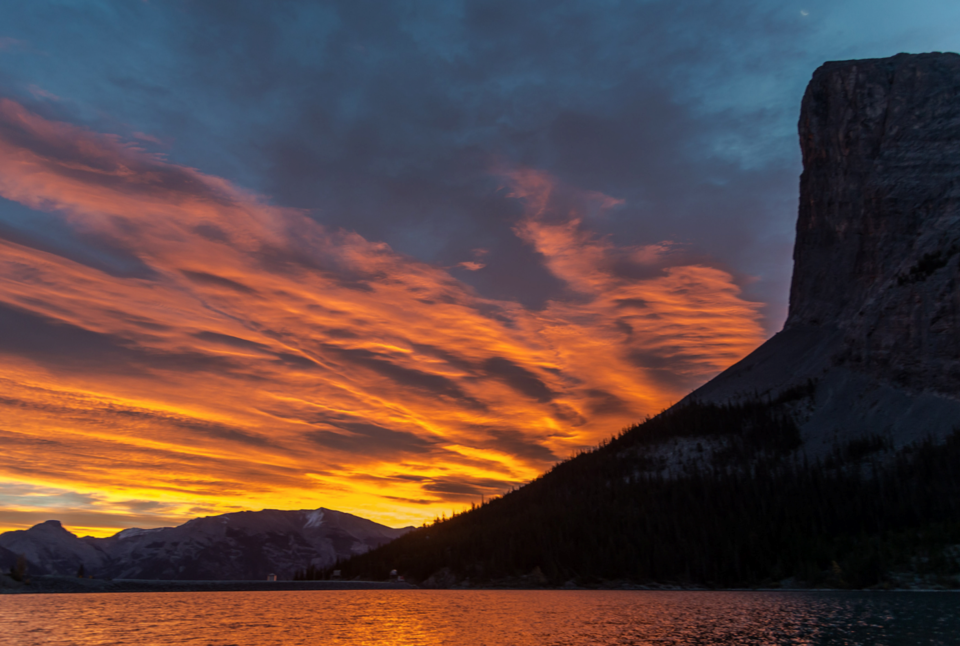 Hiking Mt Rundle or Ha Ling from the valley
The view from our home was of the east end of Rundle (EEOR) and it's a fun hike to go up via the Highline Trail to either of these trail heads. You will almost always meet someone hiking three or more peaks a day. So no matter how epic this might feel, it is pretty tame compared to what many of the hard core locals do!
My favourite: the flat white. I love their to-stay cups!
Marney has created such a wonderful space to order to go or eat in. Of the many things I miss because of the pandemic it's live music at Communitea. Great acts like Alex Cuba, Séan McCann and Carmanah pass through and play in this lovely little space. I would recommend pretty much everything on their menu.
High Rockies Trail
Why ride the dusty Spray Lakes road when you can cruise this super fun and rider-friendly trail that meanders through the most glorious Spray Lakes mountain valley? This trail takes you all the way to Kananaskis Lakes. I've hiked, mountain biked and trail run it many times over, sometimes not seeing a single person (except the suspension bridge which seems to be an Instagram spot?!) Kudos to the trail makers for creating such a fun route!
Okay I'm a lightweight at most things (except epic hikes and Olympic sport.) However I do enjoy a nice cocktail and there is no other place I like to partake than Wild Life Distillery. Matt and Keith infuse everything that comes out of their distillery with a Bow Valley spirit that can be shaken, stirred or enjoyed in house. My favoured cocktail is anything I can't make at home myself (which is pretty much everything they make!)
Who doesn't love an independent bookstore? Canmore's own is jam-packed with curious titles and unique finds for even those not keen to read a whole book (which is not me I love to read.) They have a fantastic website and a great system for ordering if browsing stores is not your thing.
Okay this is not open to the public and you have to become a member but what a place this garden plot is. Who would've thought so much food can be grown in the Bow Valley? Some of my favourite things was the year we were members: planting, watering, weeding and EATING right from the plants. Just sitting in a place where so much life is sprouting is a joy.
This has to be my favourite 'corner store' in the world! Where else can you get local Alberta produce, fresh baked pastries and breads (shout out to Uprising Craft Bakery), charcuterie (Valbella), local eggs, coffees, gelato, chocolate…I can't tell you how often I go here to pick up a few things and come out with bags of goodies!