EXSHAW – The MD of Bighorn will look at potential ways to improve parking and access to a popular beach on the Bow River after residents voiced concerns.
A June 19 letter from residents from 18 addresses in south Exshaw asked council to restrict all commercial activity at south Exshaw Beach – commonly known as Sandy Beach – and future commercial activities be restricted in the area.
The letter from residents emphasized concerns of increased traffic and speeding, more tourist and visitors coming to the area, additional parking congestion, environmental issues for the beach and the Bow River and a potential increase of human and wildlife interaction.
"We as a community already have many safety concerns with regards to the increased usage of Sandy Beach by non-local residents and feel allowing commercial operations to continue running and/or commuting through, parking or loading/unloading in our neighbourhood or the promotion of such would greatly exaggerate already existing concerns," the letter stated.
A staff report to council highlighted there are 27 privately-owned residential lots and 26 homes are in the area, also referred to as Little Italy by residents.
Though restricting access to the area would solve residents' concerns, Jared Kassel, the municipality's director of planning services, emphasized under Section 664 of the Municipal Government Act that public access has to be maintained at all times since it is public property.
"It's very serious to go beyond your legal permission," Reeve Dene Cooper said.
Robert Ellis, the MD of Bighorn's CAO, said staff could look at making potential changes – such as improved signage – but also return with a report on possible options at the October council meeting. Ellis said they could also provide a verbal update at the September meeting.
In an at times terse discussion, the issue of access for emergency services was brought forward.
A photo from Coun. Paul Ryan from late-June showed the packed beach having an excess of traffic, which would have led to significant issues if Exshaw Fire-Rescue or another fire department had to be called for a water rescue.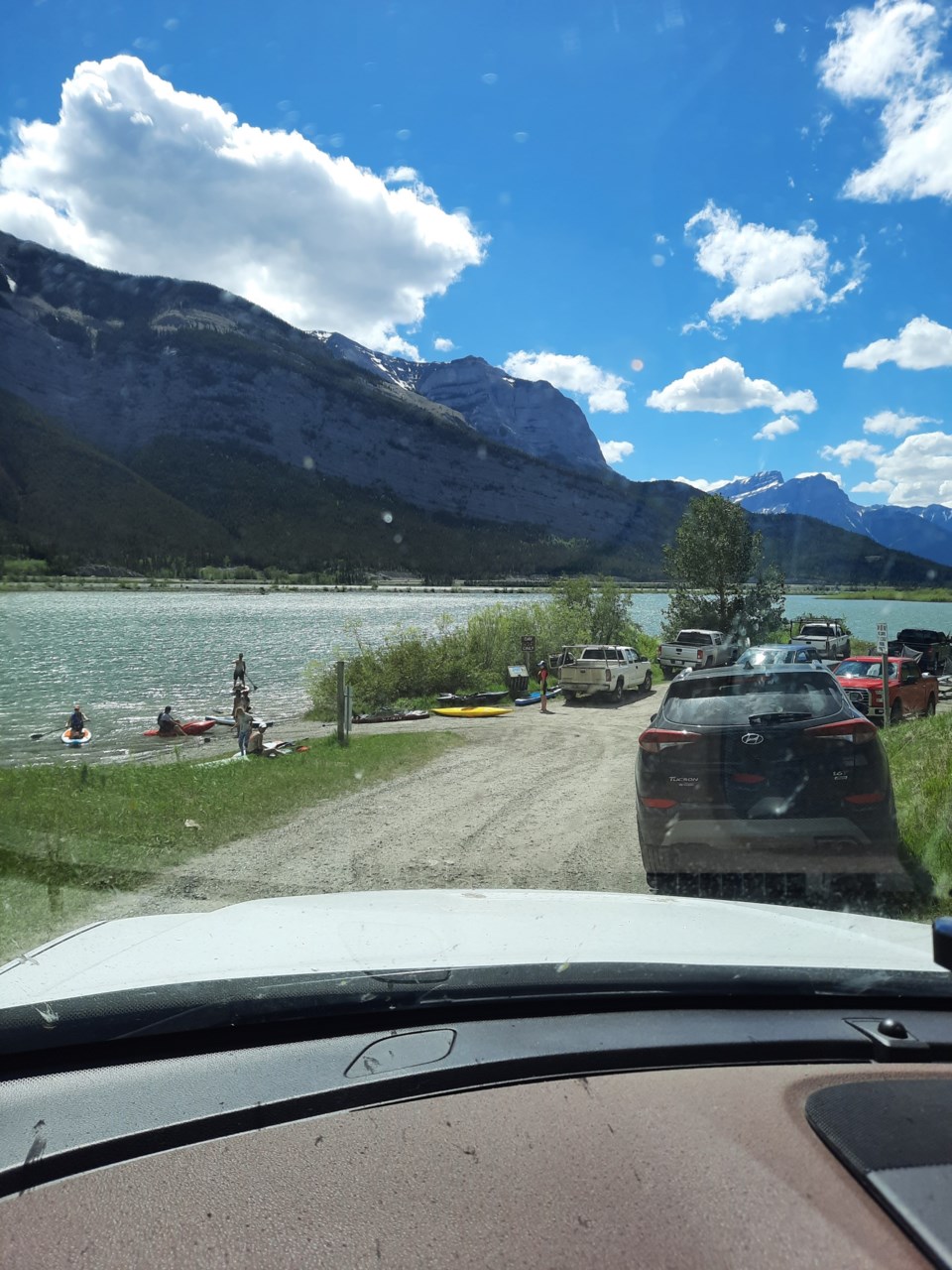 "This is not uncommon on Sandy Beach. It is significantly different than the pictures that were provided to council," Ryan said.
"I'd hate to see the problem here that we see every day of the weekend at Grotto Pond. The more people that discover Sandy Beach, the greater the problem is going to get. It's been my experience when you deal with the problem when it's small, you can generally avoid dealing with the major problem."
Ellis said staff had not encountered the same level of traffic in recent months, but added they would look at ways to alleviate traffic in the beach area.
He added they had seen an increase in use at Grotto Pond and Gap Lake, but recent weeks have seen the demand subside.
"The key goal is to make sure we have a clear pathway to make sure the emergency vehicles can get down there to launch," Ellis said. "That's one of our priorities."
Among the options presented to council in the staff report were the designation of a temporary parking area at the beach, increased signage to direct overflow traffic to the municipally-owned land on Diamond Drive, or have a vehicle turnaround at the beach for vehicles to exit more safely.
"Our first consideration as council is always life and injury," Cooper said. "The idea EMS needs access to that river at that point is very, very important. There aren't other nearby places where they can be safely entered into the river, but almost any ice-free time of year.
"There are accidents on the river, often times they're visitors but not always, but the first priority as council is to make sure the EMS, whether it's provincial or our own EMS or other EMS agencies we have agreements with, they have to be able to get down there as quickly as possible and unhindered."