Bow Valley Green Energy Co-operative (BVGEC) is branching out and has developed an opportunity to become an energy marketer in partnership with Utility Net. With this collaboration, energy services are now provided under the tradename Rocky Mountain Community Energy (RMCE) for residential properties, commercial businesses and host sites. Everyone benefits through this innovative model because profits stay in the community, enabling more local renewable energy projects and helping even more Albertans reduce their carbon footprint. This program ticks all the boxes to provide economic, environmental and social benefits to the community.
Jodi Conuel, BVGEC Secretary, explains, "We want to create more funds to continue to support more renewable energy projects in Bow Valley, and identified the RMCE project where we sell gas, internet and energy in the Valley and beyond as an efficient way to do this."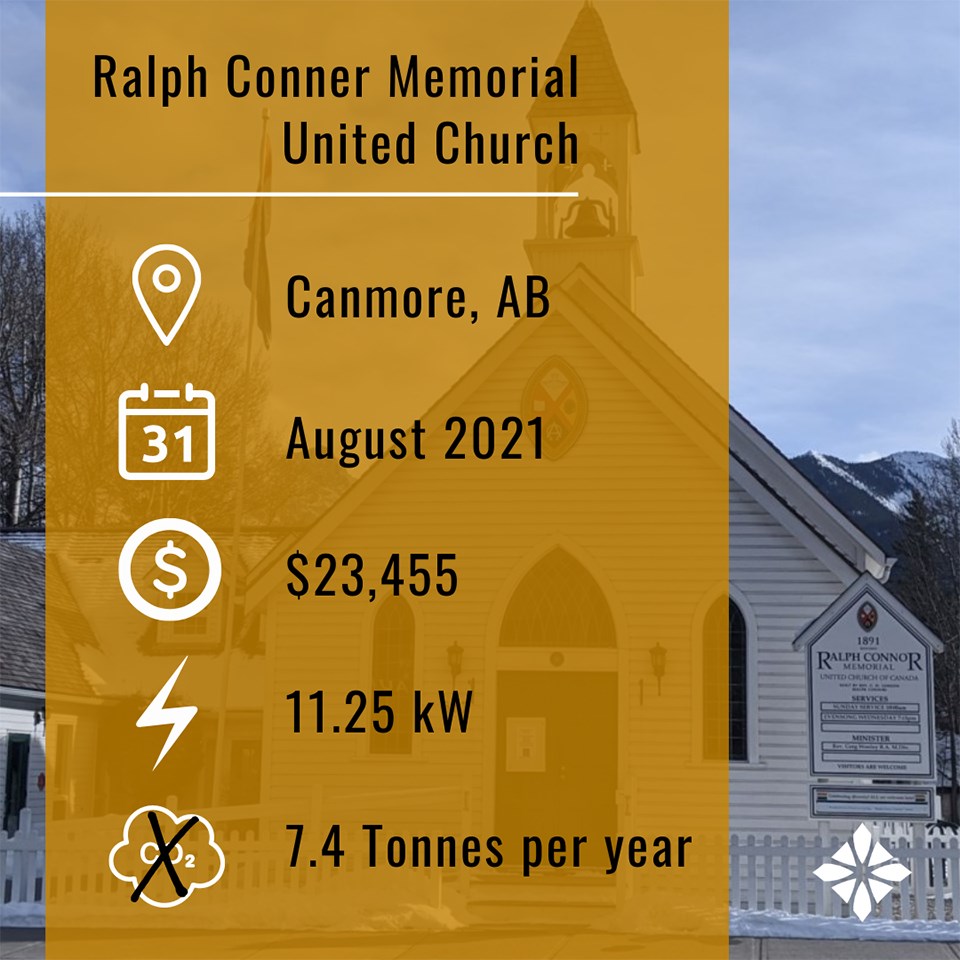 The host sites are an important part of BVGEC's operations. Jodi says, "A host site is a location that is hosting one of our community generation installations. Our first host site was Ralph Conner Memorial United Church, there is an 11 kWsolar power array on their rooftop."
The church's array was energized on Sept 17, 2021 and is just the first of many host sites to come.
"Three more are on the way!" confirms Jodi. "Upcoming host sites will include St. Michael Anglican Church and two phases in the new I-Place development. Renewable energy installations at these locations will be funded in part by the profits from selling electricity and gas contracts via RMCE."
She continues, "BVGEC will take the profit from selling all kinds of power and feed it directly into our community generation program. By sourcing your electricity and gas from us, you are supporting your local community. It's important to be reliant on your own province – that is one of the key pieces of community generation. RMCE energy is energy that's locally financed, locally sourced and locally provided. By bringing energy back to our local community we have much more control over its financial, social and environmental benefits."
BVGEC has come a long way since they launched operations just a few short years ago.
"We started as a very small dedicated group of volunteers in 2019 working to create the initiative. In 2020 we officially became our own legal entity. Since then we have accrued over 70 members and we have received $140,000 in community investment funds from our members."
Jodi invites everyone interested in purchasing energy for their home or becoming a host site to learn more. "Please do get in touch! We can now provide our host sites with 100% of their energy needs. And remember, we provide our energy contracts to everyone. It's a fast, easy and cheap way to get involved in community energy. Buying your power from RMCE impacts our community in so many important ways. We cannot overstate the many local benefits."
With fluctuating energy prices that are constantly impacted by world events beyond our control, and with the impacts of climate change continuing to affect populations worldwide, more responsible, local energy projects such as the new RMCE project are the way forward. When we don't have to rely on other nations or factors to control the energy we all use, we all win. Visit www.bvgreenenergy.org to learn more or www.rmcenergy.org to sign up today.