The world of cryptocurrency is growing, and as it does, Peercoin is capturing mindshare among crypto enthusiasts. Just what is Peercoin? The Peercoin blockchain network is an open-source ledger run by users of the currency. While many know about Bitcoin and Ethereum, Peercoin actually has deep roots – it went live in 2012 as a pioneer in the emerging cryptosphere.
In a recent press release, the founders had this to say of Peercoin: "The key innovation of Peercoin is its invention of Proof of Stake, an alternative consensus protocol to Bitcoin's Proof of Work. It is also recognized as a 'green blockchain' with low power requirements. As of March 21, 2022, Peercoin had a circulating supply of 27,447,544 PPC with a target inflation rate of 2% per year."
Coming up on almost ten years of innovation and growth, Peercoin is backed by the Peercoin Foundation and a tenacious community of developers with a long-term commitment to sustainability and a blockchain framework that provides real-world business solutions and storage of value. The release went on to describe the role of the foundation. "[It] was established with the mission of promoting and supporting the continued education, development, and overall progression of the Peercoin project. The foundation seeks to empower future Peercoin team members by providing the tools necessary to perpetuate Peercoin's longstanding reputation for bringing world-first innovations to the Blockchain."
Recently Peercoin hit a milestone when it made a successful listing on QuickSwap, Polygon's leading decentralized exchange protocol.
The PR explained that, "The debut of Wrapped Peercoin (wPPC) on QuickSwap marks the second in a slate of new listings utilizing Wrapmeister, a custom-built cross-chain bridge software that enables dApp developers to convert Peercoin into ERC-20 tokens for use on EVM-based blockchains." You can view the cross-chain bridge at: https://bridge.peercoin.net/.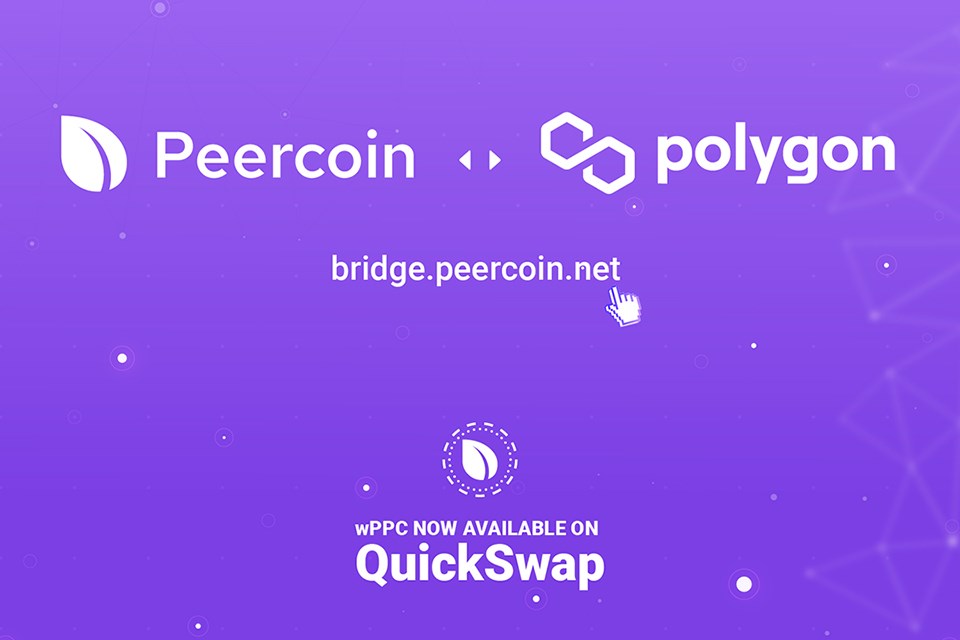 This is not the wPPC's first listing. In February, wPPC was listed on Ethereum's Uniswap. However, between the first and second listing, Peercoin notes that, "By listing on both Uniswap and QuickSwap, wPPC can be readily swapped with any other ERC-20 token by users of MetaMask wallet. wPPC can be imported into MetaMask with a single click on bridge.peercoin.net or manually by entering the official contract address in the MetaMask settings."
Now the push is on to give the Peercoin community more access and build up usage. Peercoin's Project Lead, Peerchemist, discusses why increasing access is important right now: "Each blockchain is an isolated island, but there is an ever-increasing desire to cross-connect them and make them interoperable."
Wrapmeister's plans for this year include pushing wPPC beyond the borders of Ethereum and Polygon and onto other blockchain platforms. User feedback is being considered as to where to target next.
In this article, Peercoin is mentioned as a green choice. As Peercoin expands, this will continue to grow in importance. Cryptocurrency takes a phenomenal amount of electricity. Peercoin's green mining protocols will go a long way in showing the industry that the world of crypto can grow in a sustainable way. Energy waste, and how to combat it, needs to be part of the crypto conversation going forward. If this is not addressed, there will continue to be environmental consequences.
There is a lot to learn about cryptocurrencies, and it's worth learning about since they are becoming part of our everyday finances. Are you interested in learning more about crypto currency in general? Investopedia has a great primer on crypto. If you want a deeper dive into the world of cryptocurrency, this blog does a great job of breaking it all down.
To learn more about Peercoin and how it is an alternative to Bitcoin, click here. To learn more about Peercoin's sustainability, click here.
- by Ciara Furlong