Due to the proximity of the Icefields Parkway, the Ghost Wilderness, Kananaskis Country and Banff Yoho National Parks, the Canadian Rockies is home to the largest, most accessible waterfall ice climbing in the world. For that reason, it should be no surprise that the authors of Falcon Guide's second edition of How To Ice Climb! call the Bow Valley home.
Authors Sean Isaac and Tim Banfield worked together to create the 288 page book over a number of months, although their experience spans decades. Isaac, a full Association Of Canadian Mountain Guides (ACMG) Alpine Guide and former professional climber (who has first ascents around the world) and Banfield, a professional adventure photographer and avid climber, combined complementary skill sets to bring to life ice climbing's essential basics, tips, history, movement skills, hazard management and much more.
To celebrate the book's launch, on Sunday, November 21 starting at 6pm (to 8pm) at Canmore Brewing Company, Banfield and Isaac will each do a short 20 minute presentation on ice climbing and will do book signings. This will be the only place to buy the book until local shops get their stock in. The book goes for $40 (cash only for this event.)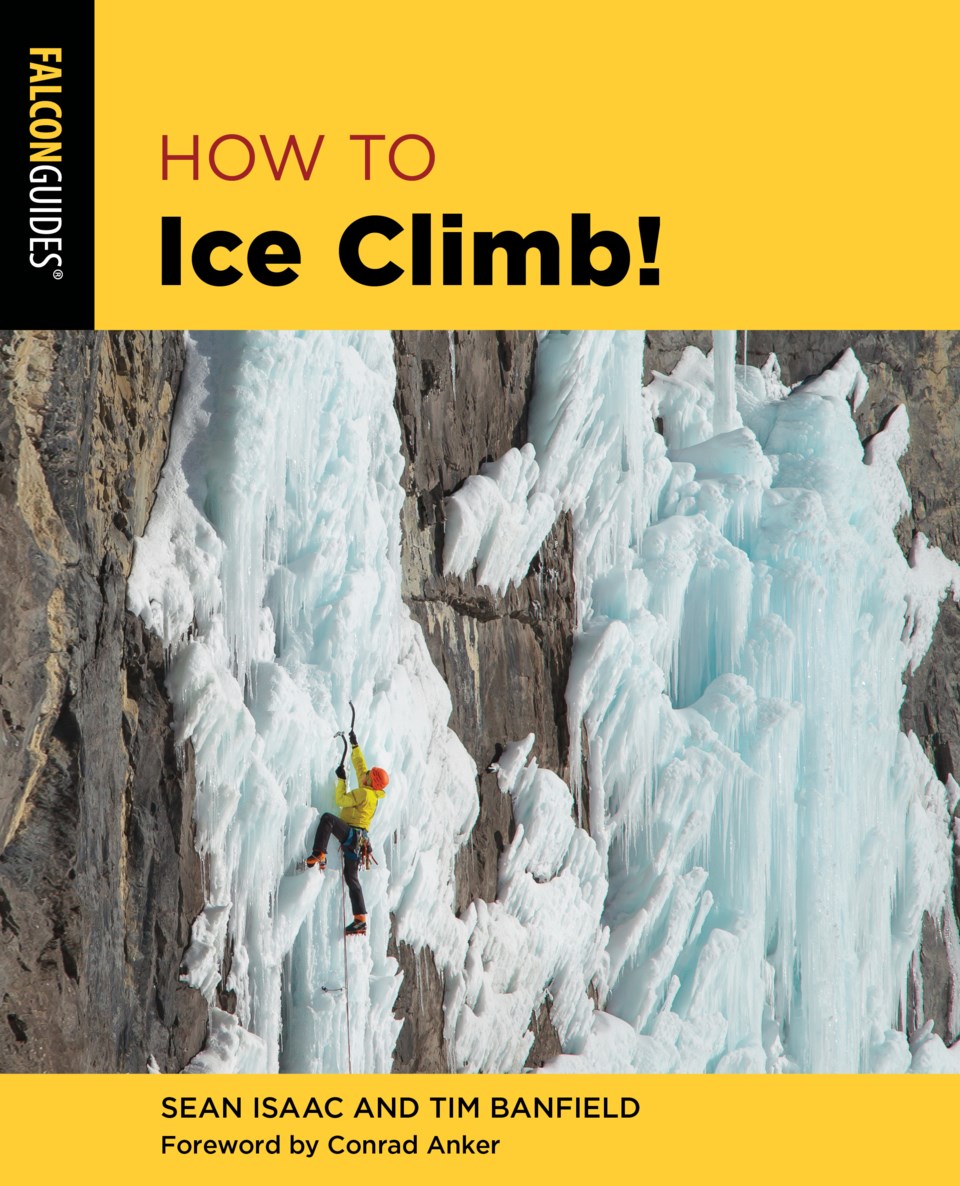 How To Ice Climb! is almost guaranteed to be the most comprehensive book on ice climbing to date. The pair have also curated all aspects of the sport with heavy hitters of the ice climbing world like Conrad Anker – who wrote the forward, Steve House – who wrote a training section along with local esteemed ACMG Mountain Guide, avalanche forecaster and Banff National Park Visitor Safety specialist, Grant Statham – who wrote a section on avalanche risk.
"We were lucky to have a few guest authors, which we feel is important for variety and specific expertise," says Isaac.
The first edition was published in 1999 and was written by Craig Luebben who passed away in 2009.
"A lot has changed in ice climbing since then," says Isaac.
Isaac has taught ice climbing for 20 years, something he started in his pro days at ice festival clinics, even before he was a guide. His passion for teaching comes through in the book. However, it is the love of the sport that motivated both Banfield and Isaac to create the book.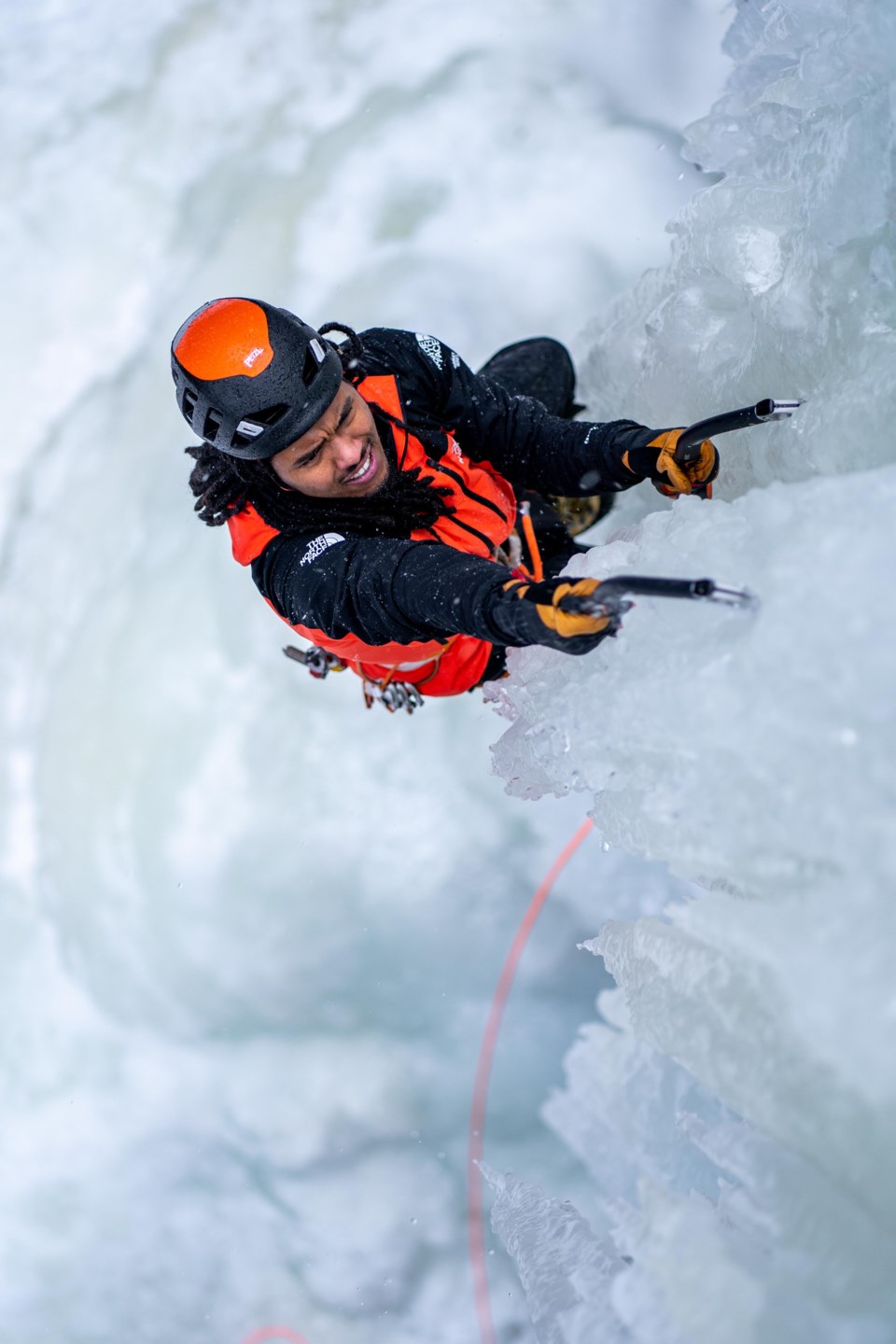 "We wanted the book to appeal to anyone that is interested in ice climbing," says Banfield. "From the beginner to the advanced climber with enough quality photos to even appeal to those that maybe haven't started ice climbing yet."
For visual learners, Banfield's photos show clear and precise positions and methods of not just the climbing movement but also how to belay and all the other aspects of ice climbing that can be visually represented.
Banfield cites "working with Sean, and merging both of our work together to create a technically sound and visually appealing book" as one of his favourite parts of the process.
That sense of togetherness is echoed by Isaac with the upcoming book launch this coming Sunday.
"I think these events are a great way to bring people together to learn, meet new partners and simply have fun," says Isaac. "Pub socials have a long history in climbing culture and Canmore Brewing Company and The Bow Valley Mountain Club have become pillars of our local climbing community."
To learn more, visit How to Ice Climb! on Facebook or Instagram