If you're looking to renovate your kitchen or you're simply love staying up with the trends, here's what you should look out for in 2022.
Home design trends are ever-changing. Just like fashion and pop culture, trends are coming and going faster than ever. While we may not change our homes as often as we change our wardrobes, it's always fun to keep an eye on emerging trends for future inspiration. Today we're going to take a look at this year's kitchen trends. While many of these things have held true for a few years now, we are seeing some changes afoot.
Open Kitchens are Here to Stay
Thankfully we have made a hard turn away from those small, closed-off kitchens in the '90s. In recent years, builders and designers have really embraced open kitchens and given the beloved room the space it deserves. If our forecasting services us currently, the open kitchen is here to stay.
White is on the Way Out
Within the last decade, we've seen a whole lot of white in the kitchen; from white walls and white cabinets to white countertops and appliances. Moving into the 2020s, white has gotten the boot and been replaced with darker colours. In some homes, white just works best, and that makes total sense, but houses that have a lot of natural light are opting for darker hues.
Green Takes Over
As we're seeing with all of interior design right now, people are just loving green. From sages to forest greens, the earthy colour is popping up everywhere and that includes our kitchens.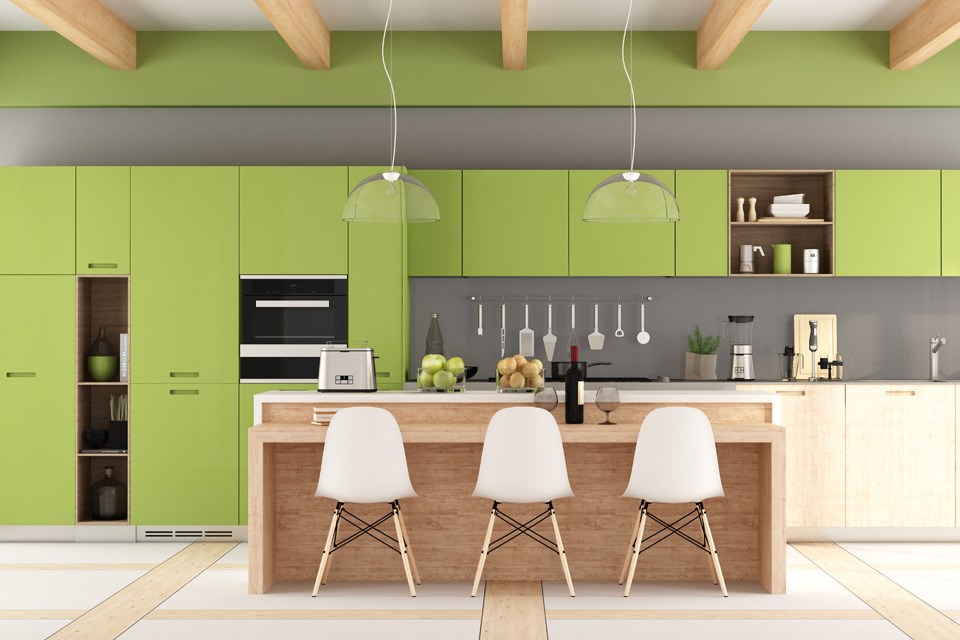 Stress-Free and Simple
As the pandemic and the move to working from home have made most people far more intimately acquainted with their homes, people are tending towards all things zen. Completely clutter-free kitchens are on trend and that means even overhead cabinets are on the way out to offer the appearance of even more space and less busyness.
Effective Storage
Further, storage is becoming far more mindful. Rather than just adding a bunch of drawers and cabinets, storage is being made with kitchen items in mind. For example, places specifically for cutting boards or mugs, rather than one-size-fits-all storage.
Ceramic Tile is Creeping in
Hardwood floors have been the reigning champions for years, but we're beginning to see ceramic tiles creeping up in the running. Tiles offer a vintage vibe and chic appearance this hardwood simply can't deliver.
Islands are King
As you may have predicted, islands aren't going anywhere. Large kitchen islands that are multi-use and single-height are extremely popular. As we said, people like to socialize in the kitchen and islands really elevate that experience.
Natural Light
Adding a ton of light to kitchens via windows or even full doors to the outside is extremely popular right now. While kitchens haven't always been a focus in the window department, that is really changing. We see a lot of patios right off kitchens and even the addition of indoor/outdoor kitchens.

This story was made possible by our
Community Partners Program
. Thank you
Peak Performance Painting
for helping to expand local news coverage in the Bow Valley.
Learn more.